Please share.
—
EPIC's FOIA lawsuit forced the DHS to disclose 285 pages of records. The documents include contracts, price estimates, Privacy Impact Assessment, and communications concerning DHS Media Monitoring program. These records make public, for the first time, details of the DHS's efforts to spy on social network users and journalists.
The records reveal that the DHS is paying General Dynamics to monitor the news. The agency instructed the company to monitor for "[media] reports that reflect adversely on the U.S. Government, DHS, or prevent, protect, respond government activities."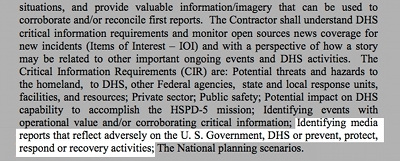 The DHS is attempting to "capture public reaction to major government proposals."

The DHS instructed the social media monitoring company to generate "reports on DHS, Components, and other Federal Agencies: positive and negative reports on FEMA, CIA, CBP, ICE, etc. as well as organizations outside the DHS."

One of the example social network monitoring summaries is titled "Residents Voice Opposition Over Possible Plan to Bring Guantanamo Detainees to Local Prison-Standish MI." The report summarizes dissent on blogs and social networking cites, quoting commenters.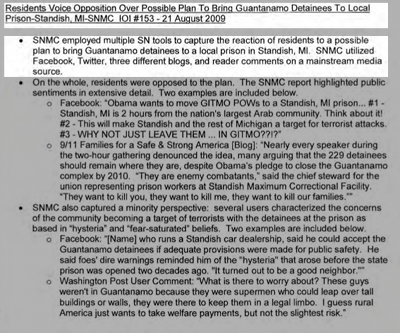 The DHS instructed the company to "Monitor public social communications on the Internet." The records list the websites that will be monitored, including the comments sections of [The New York Times, The Los Angeles Times, the Huffington Post, the Drudge Report, Wired, and ABC News.]"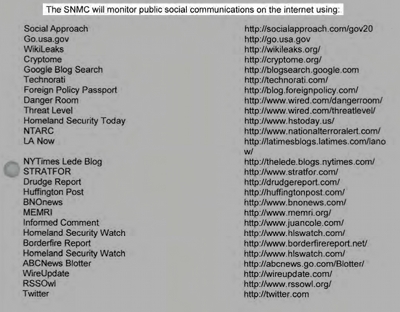 Pre-Litigation Documents
Litigation Documents
EPIC v. DHS, Civ. Action No. 11-02261 (D.D.C.)
News Items
Federal Security Program Monitored Public Opinion, Charlie Savage, NY Times, Jan. 13, 2012
Privacy Group Sues DHS Over Social Media Monitoring Program, FOX News, Dec. 24, 2011.
Which Keywords on Twitter Get the Government's Attention?, The Blaze, Dec. 28, 2011.